February 10th, 2009 by admin
Thanks to everyone (Betsy Hale, Linda Strong, Brian Sinnott, Mike and Anna Mahony, Calley Hastings, Lindsay Gardner, Marsha Zumbach) who sent us pictures for our big ol' wedding photo album.  The 330 pictures in the slideshow represent about 10% of the photographs taken over the weekdend, and they are our absolute favorites!  Enjoy the next 16.5 minutes!
Click HERE to view a larger version of the slideshow.
Click HERE to view/download individual pictures or download the album to Picasa.
WOOHOO!!
What a wonderful, WONDERFUL weekend!! Thank you all SO, SO MUCH for celebrating our wedding with us, it truly could NOT have been more perfect!
We have NEVER had so much fun in our ENTIRE lives…nor have we ever danced quite so hard for quite so long. (As you can see.)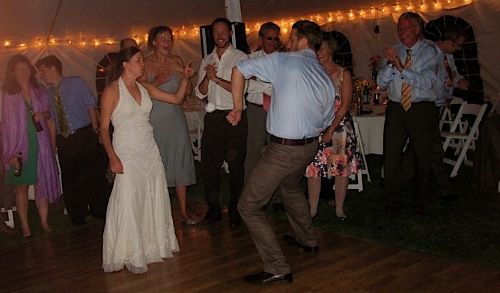 We hope you all enjoyed yourselves, and thank you again for being with us on our best day ever!
All our love,
Hannah & Tim
_______________________________________________________________
Our Ceremony
Processional:

Iron and Wine – Each coming night
performed by Mike Van Dyke and Susan Reid
Flower girl Mary, escorted by Tarryn
Flower girl Lily, escorted by Jennie
Judith escorted by Josey and Calley
Jack and Betsy
Tim, escorted by Aaron and Brian
Ellen escorted by Andrew
Nancy escorted by Nick
Hannah escorted by Steve
Welcome:
Curtis: Welcome everyone. Marriage is a supreme sharing of experience, an adventure in the most intimate of human relationships. Today Hannah Sterling Reid and Timothy MacLachlin Sinnott proclaim their love and commitment to the world, their friends, and family. We are gathered here to rejoice in the new life they now undertake together.
We would like to take a moment as we begin to think of the people close to the bride and groom who could not be with us today in body, though they are certainly here in spirit. Driscoll Reid, Emily Carl, Croxton Morris, George Carl, John Sinnott, Doris Sinnott, Michael McClain.
And now Hannah's grandmother Ellen Reid will read a prayer for the gathering.
Prayer for the gathering:
Ellen Reid (to gathering): May today there be peace within. May you trust that you are exactly where you are meant to be. May you not forget the infinite possibilities that are born of faith in yourself and others. May you use the gifts that you have received, and pass on the love that has been given to you. May you be content with yourself just the way you are. Let this knowledge settle into your bones, and allow your soul the freedom to sing, dance, praise and love. It is there for each and every one of us.
Declaration of Intent:
Curtis (to Hannah and Tim): Today is a celebration not of a beginning, but of a continuing bond that already exists between you. In many ways, your lives are already joined. At this moment you declare your intention to make this joining deliberate and permanent.
Curtis (to gathering): As these two people are joined, so are their families and friends united through them. Hannah and Tim have chosen you, their friends and loved ones, to be here on this day as witnesses to their marriage. It has been their decision to join themselves together in marriage, and their lives will be strengthened and enriched by the support you give.
"Time is too slow for those who wait, too swift for those who fear, too long for those who grieve, too short for those who rejoice, but for those who love, time is not." Take a moment to look at each other, hold one another's hands, and remember this moment and all of the love and happiness you feel for one another. For this instant, time is eternal." (by Henry van Dyke)
Curtis (To Hannah & Tim): Now take a look at everyone gathered here, all of your loved ones who are here to support your union, and feel the love, the warmth, and the happiness that they all feel for you. Soak up this moment and remember it always.
Curtis: Hannah's brother Nicholas will now read a passage written by the poet Rainer Maria Rilke
To Love is Good
To love is good, too: love being difficult.
For one human being to love another:
That is perhaps the most difficult of all our tasks,
The ultimate, the last test and proof,
The work for which all other work is but preparation.
For this reason young people, who are beginners in everything, cannot yet know love:
They have to learn it.
With their whole being, with all their forces gathered close about their lonely,
Timid, upward-beating heart, they must learn to love.
But learning-time is always a long, secluded time,
And so loving, for a long while ahead and far on into life,
Is solitude, intensified and deepened lone-ness for him who loves.
Love is at first not anything that means merging, giving over, and uniting with another
(for what would a union be of something unclarified and unfinished, still subordinate??)
It is a high inducement to the individual to ripen, to become something in himself for another's sake,
It is a great exacting claim upon him,
Something that chooses him out and calls him to vast things.
Curtis: And now Tim's brother Aaron will read a poem by Alastair Reid
To Be Alive
Take my hand. Take my hand.
There is something still to understand.
There are lessons to learn our books never taught.
There are things our parents forgot.
If I could tell you what can never be said.
Listen. I have birds in my head,
Stars in my feet, clouds on my mind.
So try to understand.
Take my hand.
Then, suddenly, two by two,
we turn a new surprising corner….
It was a new kind of seeing,
a new kind of knowing.
Warily, warily
we met, talked, touched,
and from the silence of aloneness,
we moved closer together.
We regretted the end of every moment.
Could it not always be like this?
Don't let it slip away.
Grasp it, hold it, make it stay.
Will you promise? I promise.
Forever? For ever.
Curtis: And now for the musical portion of our show:

Bruce Springsteen – If I Should Fall Behind
perfomed by Mike Van Dyke and Susan Reid
Exchange of Vows:
Curtis: Hannah and Tim, in coming together to celebrate your marriage, you are giving public expression to your personal commitment. The words you are about to share with each other and your friends and family gathered here, The Country of Marriage, a poem by Wendell Berry, represents the love you promise to one another and the life you are committing to together.
Read by Hannah:
Our bond is no little economy based on the exchange of my love and work for yours,
so much for so much of an expendable fund.
We don't know what its limits are–that puts us in the dark.
We are more together than we know,
how else could we keep on discovering we are more together than we thought?
You are the known way leading always to the unknown,
and you are the known place to which the unknown is always leading me back.
More blessed in you than I know, I possess nothing worthy to give you,
nothing not belittled by my saying that I possess it.
Even an hour of love is a moral predicament,
a blessing a woman may be hard up to be worthy of.
She can only accept it,
as a plant accepts from all the bounty of the light enough to live,
and then accepts the dark,
passing unencumbered back to the earth,
As I have fallen time and again from the great strength of my desire, helpless, into your arms.
Read by Tim:
I give you what is unbounded, passing from dark to dark, containing darkness:
A night of rain, an early morning.
I give you the life I have let live for the love of you:
a clump of orange-blooming weeds beside the road,
the young orchard waiting in the snow,
our own life that we will plant in the ground.
I give you my love for all the beauty and honesty that you gather to yourself again and again, and satisfy—
and this poem, no more mine than any man's who has ever loved a woman.
Exchange of Rings:
[Aaron gives the rings to Curtis]
Curtis: Please join hands. Tim…
Tim: Hannah, you are my love and my counterpart, my very favorite person.
This ring is a symbol of my love for you and my commitment to our marriage and to our long life together. Will you be my wife?
Hannah: Yes I will
Curtis: Hannah…
Hannah: Tim, you are my love and my counterpart, my very favorite person.
This ring is a symbol of my love for you and my commitment to our marriage and to our long life together. Will you be my husband?
Tim: Yes I will
Pronouncement and Ending:
Curtis: Your marriage has begun here today in speaking your vows before these guests, and you will reaffirm it again and again in the days and years to come, standing by each other, sharing each other's joys and sorrows alike. Each tender act, each loving word will be the declaration anew of what was marked here today.
Curtis: By the power vested in me by the state of Vermont, I now declare you husband and wife.
Tim, you may kiss the bride! (and I did…)
Our Registry:






Note: Signing in only signs our guestbook…no spam!
Posted in Uncategorized having no comments »